Start your tennis journey
Decathlon is providing some guides to help your kids start the first tennis lesson.
Choose the right equipment
Racket: start with a racket that is light and easy to control. Decathlon suggests a racket size between 17-25 inches weighing between 160 to 200 g.
Ball: a pressureless ball with lower bounce for eaiser handling of shot.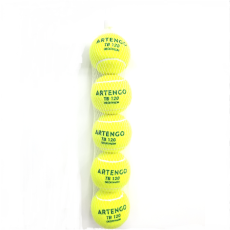 - Slower ball speed and lower bounce (25% lower than regular balls)
Shoes: Choose a pair with basic cushioning and breathable material.
Bags: Get a tennis bag/backpack which can protect your racket well, and contains several compartments to organise your racket and clothing.
- One outside pocket to protect any racket and one central pocket for sports gear
* The prices listed on the site are the prices recommended by DECATHLON's central purchasing department.