CYCLING | HOW TO TEACH YOUR CHILD TO RIDE A BIKE?
Learning to ride a bike teaches you how to control your movements while accounting for external elements.
A full programme for helping children eager to go and have fun on their bike!
When the bike has been carefully chosen and adjusted to the child's height (the child's back should be straight and both feet flat on the floor), get your young cyclist in the saddle.
Staying still, show them the locations of the pedals, brakes, etc. Let them tame the beast!
You can then continue the observation stage by putting the bike upside down:
  - You can then show them the purpose of pedalling (as it is pedalling which turns the wheels!) and the brakes (by pressing the handles, the wheels stop moving)
2. FINDING AND KEEPING THEIR BALANCE
If the child is older than 3/4 years and has never used a balance bike
  - You can try removing the pedals from their bike to turn it into a homemade balance bike.
It's a good way to help them learn to find their balance and learn to ride their bike like the big kids.
The most important thing for this stage is this:
  - Explain that the bike will go in the direction they are looking (avoid falling off the bike)
  - When they have understood the principles of staying balanced, the next element to add is speed
A key step!
Try it out using the "1, 2, 3 go" game.
The aim of the game: Pushing off on your own.
Then proceed step by step:
  - Push with the feet (like on a balance bike) for three seconds
  - Lift the feet onto the pedals
  - Pedal! You can play by varying the number of seconds you give them to lift their feet: it could be 4 seconds, sometimes 6…
You should also remind them to always pedal and give them the rhythm: "Pedal, Pedal, Pedal…".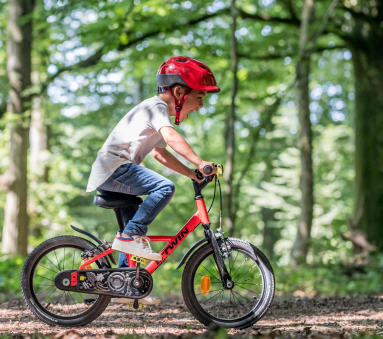 Your child knows how to start, pedal, and brake, and that's great.
But sooner or later, they will need to turn or avoid an obstacle.
You can start by giving them goals, always in the form of a game:
  - You can use cones, trees, the house at the end of the road... with only one push-off
  - The "going on holiday" game can also be helpful
Aim: Continue making them understand that, like with balance, they need to look where they are going.
Set up 3 cones, each representing 3 places to go on holiday.
The blue is the beach. The yellow is the mountains. The white is the pool.
Ask them where they would like to go first and remind them need to always look in that direction.
* The prices listed on the site are the prices recommended by DECATHLON's central purchasing department.