Training plans to make a swimming comeback
Summer is coming and you definitely want to jump into the water to enjoy the cool vibes. Apart from choosing the suitable swimming material, what you should do to get back to the pool after a long pause? We have listed out the possible swimming plans from the professional swimming coach for your first swimming practice.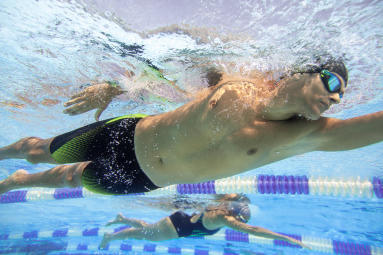 Warm-up -> division stroke-> 10/12 x 25m sprinting -> cool down
Start with a warm-up of 200m low-frequency freestyle. Then you can perform some division stroke, for instance, swim with left-hand freestyle for 25m while the right-hand puts aside your hip or put it at the front, and change to right-hand stroke for another 25m. For butterfly stroke, you can start with 5 strokes of the left hand and 5 with a right hand and then, 5 full strokes. For backstroke, it is the same as the butterfly stroke.
However, it is a little bit different for breaststroke. You can do the stroke with 3-2-1 breaststroke legs. Hold your breath for swimming 3 breaststroke legs and then a full stroke, then swim 2 breaststroke legs and a full stroke and one full stroke. For the division stroke, you can decide the stroke you want to practice and make it to 400m.
After you have finished the division stroke, you can do 10-12 times 25m sprint. When you reach the 25m, swim slowly to cool down yourself to another side of the pool and start it again. It is better to set a time for yourself to do the program. For example, you can set 1 minute for each sprint including the cooldown to keep up the heart rate.
Warm-up -> division stroke -> 400 - 1000 m freestyle -> cool down
Same as the first program, this program has slightly changed the last part. You are suggested to swim 400 - 1000 m freestyle. The distance depends on your strength and endurance. Yet, you can gradually increase the distance. In the meantime, it would be good to record the time needed for each 100 m to keep up the heart rate. 
Warm-up -> 200 m kicking -> 400 m freestyle -> 400 m breaststroke/other strokes -> cool down
For this program, you are not allowed to do it in the main pool as you need a kickboard. After warming up, you can do a 200 m kicking of a stroke. The main set of the program is 400 m freestyle and 400 m of the other strokes. Also, it is advised to set a time for each 100 m. 
These training plans are designed for the advanced swimmers after a long pause of practice. You can also try it out but you need to adjust the intensity depending on your capability. Keep in mind that start the sessions with low intensity and gradually increase it. Stay healthy and fit.
What to take with your training?
* The prices listed on the site are the prices recommended by DECATHLON's central purchasing department.